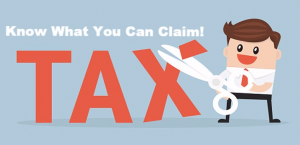 The end of financial year is near, and it is time to get your tax affairs organised. Since we know that getting down to the nitty gritty may be stressful, we'd like to help by giving you some information that can make the next couple of days or weeks easier.
$20,000 asset write-off. Changes in the Federal Budget now allow small businesses with an annual turnover of less than $10M to immediately write-off any purchases of items $20,000 and under till June 30 2018. Even if the invoice totalled $100,000 yet each item falls under $20,000 you can write off the entire Tax Invoice as a Tax Deduction in the Financial Year purchased.
Bring forward your deductibles. You can "prepay" for supplies and services that you'll need in the next financial period. This may include investing in new asset and equipment, planning for repairs and maintenance, as well as prepaying monthly expenses such as wages, utilities, or even rent. By bringing these deductible expenses forward, you can potentially lower your taxable income. Other financial solutions such as chattel mortgage might also be useful to make your business eligible for a beneficial deduction.* However, do not spend just to gain deductions – make sure that each dollar spent is beneficial for your business.
Organise your tax reporting. You need to make sure that you are compliant with your record-keeping. This means you have to summarise all financial flows by preparing a profit and loss statement, listing your creditors and debtors, outlining your asset purchases, and completing your Business Activity Statement. Whilst this may get hectic, you can always hire a bookkeeper or accountant to help you out!
Use your Point of Sale System.  This is especially relevant if you are a retailer or hospitality business owner. Another benefit of having a POS system is that it helps you with your sales reporting by automatically separating sales tax and allotting credit amounts for all transactions.
Reflect and move on! EOFY is the perfect opportunity for you to review your financial performance and evaluate the areas in which improvements can take place. From there, you can start setting goals for the new financial year and devise operational and marketing plans that are appropriate for the size and stage of your business.
*This information is not meant to constitute taxation advice and does not take into account your individual circumstances. Please refer to your  Accountant for taxation advice. Finance approval is subject to commercial lending criteria.