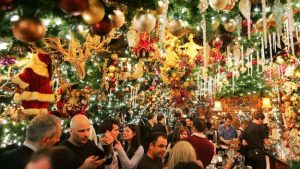 We know what Christmas means to business owners. It is busy yet full of opportunities. If you play your cards right, there is a lot that you can do to generate higher sales and reap more profit. The secret lies in being proactive, rather than sitting back and waiting for some Christmas miracles! If you want to boost your holiday revenue, it is up to you to take charge and make it happen. Have a quick look at the points below and let us help you get the best out of this Christmas holiday.
Get Into the Festive Spirit
Make sure you seem as excited as your customers are in welcoming the holiday. Put up your best Christmas decoration, play Christmas tunes, and invest in Christmas extras such as candy canes, Santa hats, and perhaps tiny presents for your regular customers. Make your venue a "happy place" for your customers by always staying positive and ensuring that it is always kept clean and tidy. More importantly, make sure your employees are always enthusiastic and passionate when serving your customers!
Free Gifts to Build Your Mailing List
One way to entice potential customers is to offer something free of charge in exchange for signing up to your mailing list. Since customers are generally in a good mood during Christmas shopping seasons, it is easier to lure them to join your mailing list especially if they have an incentive to do so! The gift may be as simple as a coupon offering a couple of dollars off or a special deal during the festive period.
Holiday Offers In Exchange For Reviews
Considering customers rely on online reviews more heavily than they do with paid advertisements, getting your customers to write positive reviews on the internet should be a priority. But again, getting them to write a review can be tricky. . Since Christmas is the season of giving, provide your customers with some interesting offers or free gifts in exchange for the reviews that they give you.
Manage Your Working Capital
We all must be familiar with the saying "you have to spend money to make money." Thus if you are aiming for higher sales during the Christmas period, you might have to spend extra cash to hire more employees, increase your marketing activities, as well as to manage your inventory. To ensure that you have enough capital, take a look at all of your expenses and try to find any reoccurring costs that you can decrease. A slight reduction in certain costs can have a huge impact on your profits!
Use Email Campaigns
Whilst social media marketing is important, email campaigns still win as the most disruptive method to reach and lure your customers. With this in mind, you can promote your Christmas activities and offers through these emails. Whatever email you send out, make sure to make them as personal as possible. Make your customers feel special by emailing them offers and discounts that are only available to them and not the general public. It is hard for customers to resist a "you're special" message especially during Christmas seasons.
But Remember… You Have To Stay True To Your Brand!
Whatever activities you do during Christmas seasons, make sure they align with your brand. If you are a small business catering to a niche market, do not try and do things that are outside of your business' capability or you will end up spending money you would not be able to recover. Whilst it is understandable that you want to make your customers feel special during Christmas seasons, make sure that you are not overdoing things and that you are still staying true to your brand.